Course
| | |
| --- | --- |
| Course title | "Basics of external corporate accounting" |
| Course type | Supplement to the lecture and tutorial |
| Department/Institute | Business Studies, FACTS Department |
| Degree program | Business Studies (Bachelor) and Economics (Bachelor) |
| Lecturer | Prof. Dr. Klaus Ruhnke |
| No. of participants | approx. 550 |
| Phase | At the end of the academic lecture year |
| Duration | approx. two weeks |
| SWS/CP | 4 SWS/6 CP |
Tools
Realization
With the help of multiple choice questions and Likert scales we ask about the study course and the general assessment of the Blackboard homework: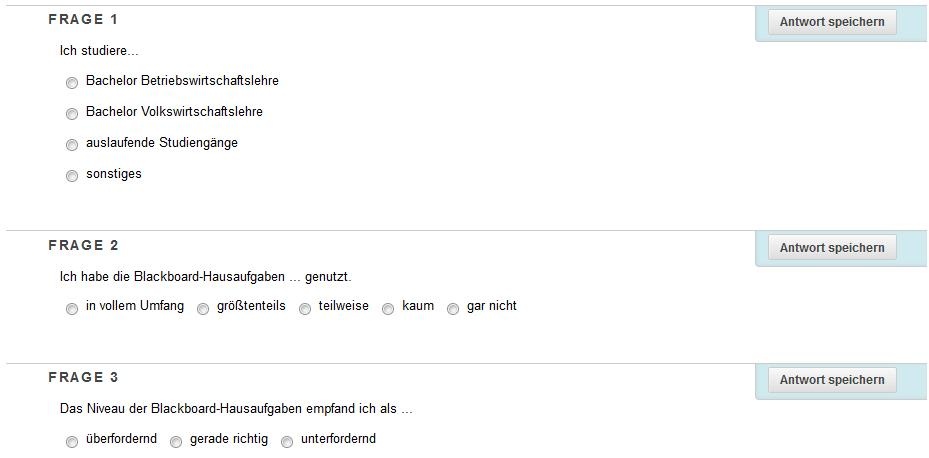 Illustration 1: Sample questions 1 - 4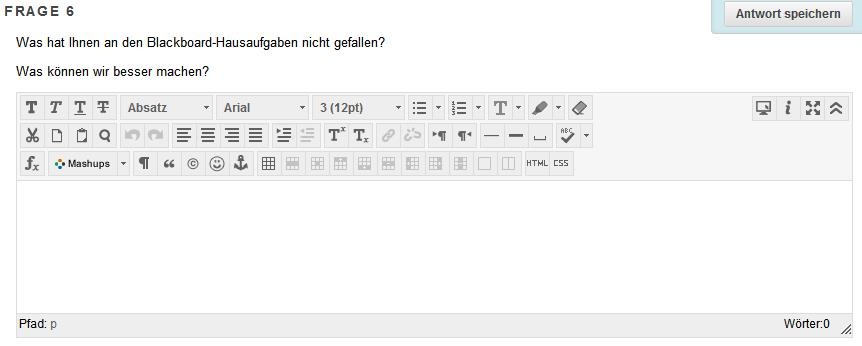 Illustration 2: Sample questions 5 - 6
Experiences made by the lecturer
Via the grade center a cumulated statistic of all sent in evaluations can be viewed. The possibility of evaluating the Blackboard homework is gladly taken up by the course participants. Via the essay questions we receive a comprehensive feedback that encourages us to keep providing the Blackboard homework as well as continuously developing the tasks. A lot of the suggestions made that came out of the evaluation in the winter semester 2013/2014 were integrated into the homework provided for the winter semester 2014/2015. For example, the comprehensive pointers as to solutions that popped up when a wrong answer was entered were also integrated under a dividing line in the feedback for the right answer. Thereby the course participants, even if they entered the right answer, have an additional opportunity to compare their way of solving the problem with the notes given. Also, the time allotted for working on each homework (approx. two weeks) was abolished. From then on, and in the winter semester of 2014/1015 itself, the homework was available without any time limitations.
Further information
Blackboard homework in the external corporate accounting (wiki)
Support offered by CeDiS
Consulting services for the implementation of digital solutions in teaching: The Center for Digital Systems (CeDiS) has extensive experience of many years when it comes to the implementation of digital media and systems within the fields of teaching, learning and research. We offer a wide variety of consulting services on the implementation of these tools and systems within the entire academic scope and especially at Freie Universität Berlin. 
Training courses and workshops: For lecturers at Freie Universität Berlin (professors, employees, tutors) as well as lecturers of other universities CeDiS offers training courses and workshops on the topic of teaching and learning with digital media. These course enable participants to implement online elements within their own sphere of teaching.
The Executive Board of the Freie Universität supports e-learning initiatives: With the e-learning funding program financial resources are provided to lecturers that enrich and improve their courses quality-wise by implementing technological and media-related support. All of the academic staff teaching, the lecturers or even the institutions of the Freie Universität - without the Charité-Universitätsmedizin - can be supported within this program.
Merken