...
Tip
Summary

The interactive online course serves to help to understand the relevant psychological learning theories and the didactic basics that can be deduced from these in order to design online-supported learning offers. By learning in multimedia learning environments complex, situation-connected issues and processes - such as cognitive simulation experiments - are clearly demonstrated in a realistic setting and can be experienced with the aid of interactive training processes. Throug Through the possibility of being able to learn in online groups, the advantages of collaborative learning can be made applicable. The course encompasses twelve learning modules made up of lecture texts, questions, tasks, examples, case studies and links. It was undertaken as three variants: as a supervised blended learning seminar, as an unsupervised self-learning course as well as an unsupervised English language course.    
...
Panel
borderStyle
solid
title

Tabel

Table

of contents
...
Learning goal


Introduction

Contents

Interactive tasks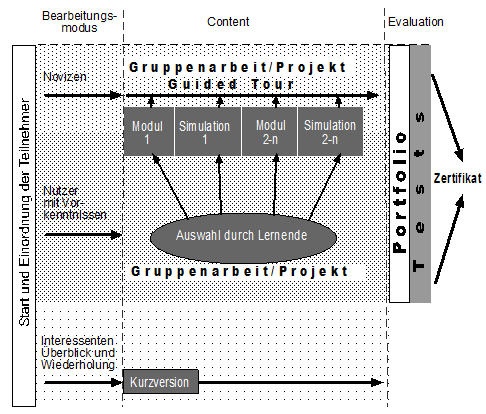 Illsutration Illustration 1: Course design
Unsupervised online course
...