Course
| | |
| --- | --- |
| Course title | Internship for training IT specialists, afib |
| Course type | Internship |
| Field | Trainees |
| Lecturer | Stefan Bavar |
| No. of participants | 15 |
| Duration | 8 weeks |
Tools
Realization
For the trainees a FU blog was set up as an online diary. After a short introduction for the trainees to the technical possibilities of the blog, special categories were defined for the blog that defined the thematic focus of the internship diary. The trainees are asked to only use the categories that are provided and, if necessary, setting up additional topics by using supplementary keywords. The blog is managed as a group blog and thereby is allows for joint work on a certain project. Via the comments feature the trainees give their view on the reports and the experiences made by the other participants and, if necessary, supplement these with notes and tips.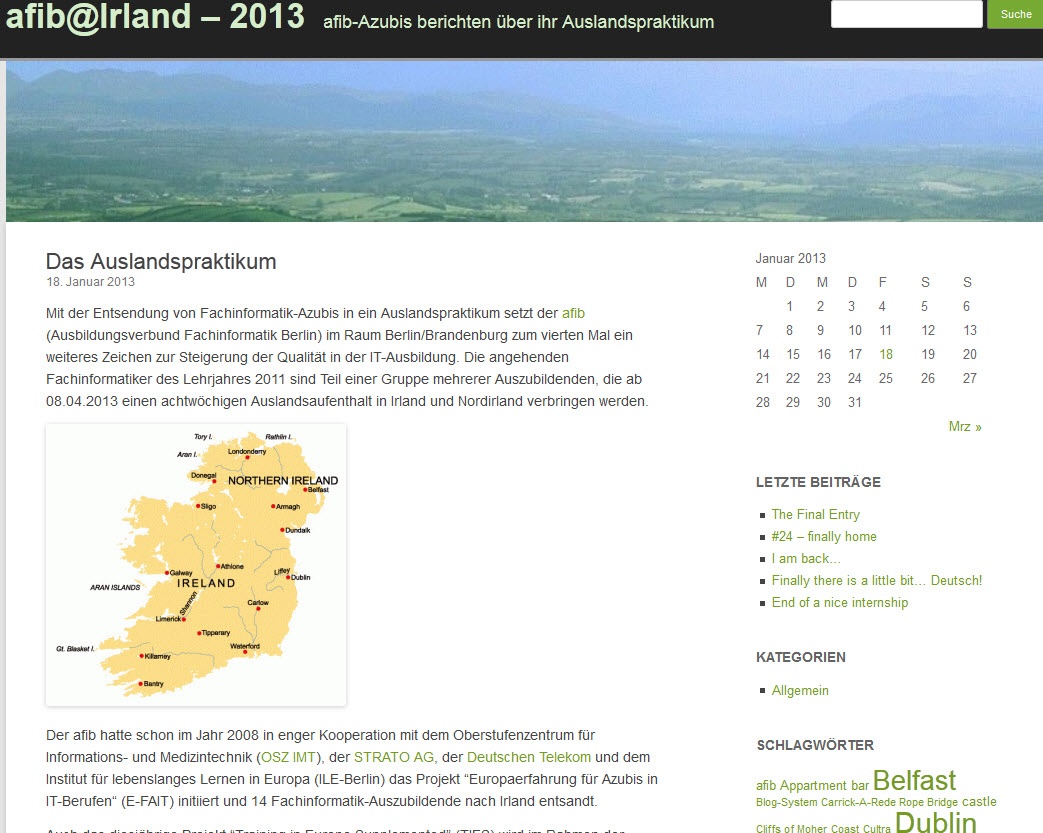 Illustration 1: Afib trainees report on their internship abroad
Experiences made by the lecturer
The trainees were skeptical at the start about using the new tool. Especially as - for this special case - the reports were supposed to be in English. During the internship, though, the blog proved to be a fitting tool for accompanying the internship. Especially the possibility of uploading photos and short (mobile phone) videos was taken up well. 
In addition, later trainees also value the experiences made and reports posted by the previous years groups that make their stay abroad easier.
Further information
Support offered by CeDiS
Consulting services for the implementation of digital solutions in teaching: The Center for Digital Systems (CeDiS) has extensive experience of many years when it comes to the implementation of digital media and systems within the fields of teaching, learning and research. We offer a wide variety of consulting services on the implementation of these tools and systems within the entire academic scope and especially at Freie Universität Berlin. 
Training courses and workshops: For lecturers at Freie Universität Berlin (professors, employees, tutors) as well as lecturers of other universities CeDiS offers training courses and workshops on the topic of teaching and learning with digital media. These course enable participants to implement online elements within their own sphere of teaching.
The Executive Board of the Freie Universität supports e-learning initiatives: With the e-learning funding program financial resources are provided to lecturers that enrich and improve their courses quality-wise by implementing technological and media-related support. All of the academic staff teaching, the lecturers or even the institutions of the Freie Universität - without the Charité-Universitätsmedizin - can be supported within this program.