Course
Course title
"Introduction to the educational sciences online"
Course type
Lecture
Department/Institute
Education and Psychology
Degree program

Educational Sciences (Bachelor)

Teacher Training (Bachelor)

Lecturer
Prof. Dr. Gerhard de Haan
No. of participants
650
SWS/CP
2 SWS
Tools
Realization
For the office hour a meeting room was set up within Adobe Connect. The lecturer scheduled a date and time for the online office hour and notified the students of this via an announcement (e-mail forwarding) within the Blackboard course. The students thereby also received the link that they needed to take part in the office hour. 
The online office hour had a duration of 60 minutes. It was implemented using Adobe Connect and recorded. The questions were formulated by the students in the chat and were orally answered by the lecturer. A student assistant moderated the online office hour and answered organizational questions herself in the chat.
Subsequently the recording and the saved chat protocol was made available to all students that could not take part in the office hour on Blackboard.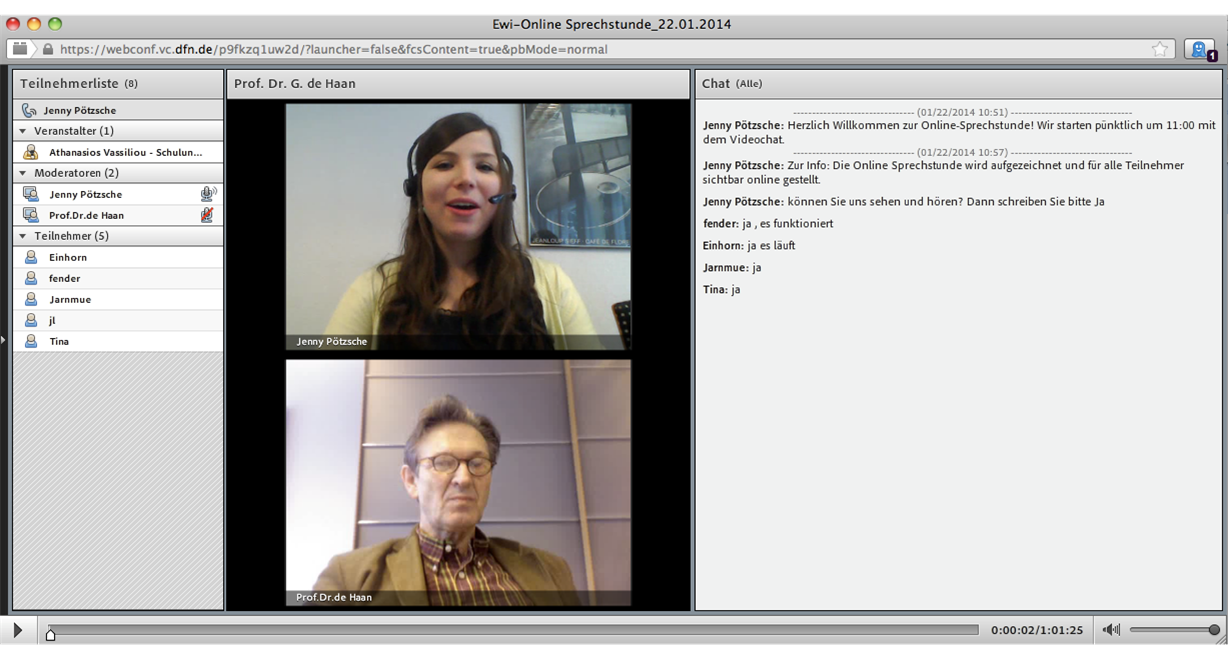 Illustration 1: Online office hour with Adobe Connect
Experiences made by the lecturer
The usage of Adobe Connect is very intuitive. Still, it is recommended that a short introduction to online meetings is given for the participants. Ideally this should take place in the lecture theatre. The necessary information, however, can also be passed on to the participants via short introductory videos or via a textual guideline that includes screenshots. 
The splitting up of the chat between organizational and content-related questions proved to be reliable for the office hours.
An early announcement of the date and time as well as the possibility of the students being able to access the online room at any time definitely lowered the barriers for participating.
Further information
Support offered by CeDiS
Consulting services for the implementation of digital solutions in teaching: The Center for Digital Systems (CeDiS) has extensive experience of many years when it comes to the implementation of digital media and systems within the fields of teaching, learning and research. We offer a wide variety of consulting services on the implementation of these tools and systems within the entire academic scope and especially at Freie Universität Berlin. 
Training courses and workshops: For lecturers at Freie Universität Berlin (professors, employees, tutors) as well as lecturers of other universities CeDiS offers training courses and workshops on the topic of teaching and learning with digital media. These course enable participants to implement online elements within their own sphere of teaching.
The Executive Board of the Freie Universität supports e-learning initiatives: With the e-learning funding program financial resources are provided to lecturers that enrich and improve their courses quality-wise by implementing technological and media-related support. All of the academic staff teaching, the lecturers or even the institutions of the Freie Universität - without the Charité-Universitätsmedizin - can be supported within this program.
Merken