Skip to end of metadata
Go to start of metadata
Implementation forms
Evaluation tools in Blackboard
Test
"Traditional" test

Personalized and graded
Lecturers can enter questions, answers and feedback

Test for mobile

Tests for mobile devices
Contains fewer question types

Survey


Exercise



Tasks in the form of one or more files
Personalized
Students work on the task and upload a file

Self- and peer tests



Personalized
The grading takes place through the participants based on stipulated criteria 
Illustration 1: Content page

Functions of tests and surveys

| Blackboard tests | Blackboard surveys |
| --- | --- |
| Assessment exams such as language placement tests | Anonymous surveys for teaching evaluation, feedback |
| Formative exams such as mock exams, self-tests | Pre-surveys on the expectations of students before a course |
| Collecting student contributions | Anonymous survey of the knowledge level of a group |
Usage
Settings for tests and surveys

Making tests, surveys available
Publishing an announcement
Setting the number of attempts allowed
Forcing the completion of the tests in one session
Defining the maximum time for the completion of a test
Defining the timespan in which the test is viewable
Setting a password for test access
Overview of the possible question types

Questions with calculation (formula): Students enter a number as the result.
Example: What surface does a cylinder have with a base radius 7cm and a height 46cm?
Questions with calculation (numeric): Students enter a number as the result. 
Example: Note down the exact value of pi up to 4 numbers after the comma.
Either/or: Students say yes or no to a given statement.
Example: Does the green coloring in green plants really only stem from chlorophyll?
Essay: Students enter a text into a text field.
Example: Shortly summarize the family relationships of the Skywalker family within the frame of the "Star Wars" six-part series.  
File response: Students upload a file as the answer.
Example: Create a handout for your presentation for the seminar group and upload it at the latest one week before the presentation in the discussion forum. 
Cloze text: Students enter terms into a text entry field.
Example: When the programming language ____ was developed, the developers - based on their love of coffee - gave it a similar name.
Hotspot: Students select a certain point by using a mouse click.
Example: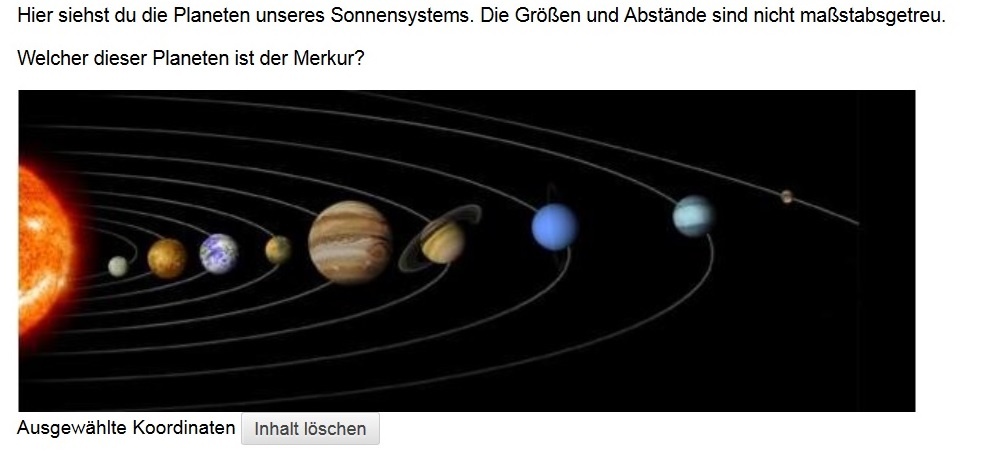 Jumbled sentence: Students select the fitting text snippet from a drop-down menu in order to complete a defined text section.
Example: 


Matching: Students match two fitting elements with each other.
Example:


Multiple answers: Students select several answers from a myriad of answer possibilities.
Example: The light of which color has a lower wavelength than green light?
Multiple choice: Students select exactly one answer out of a myriad of possible answers.
Example: Who was Isaac Asimov?
A sci-fi author and scientist
A robotics engineer
A information scientist that wrote famous books on AI (artificial intelligence)
A Russian cosmonaut
Likert scale: Students assess a statement.
Example: Assess the following statement: "From empirical data causal relationships can be deducted."
Totally agree

Agree

Neutral

Disagree
Not applicable
Ordering: Students order the statements into the correct positions.
Example: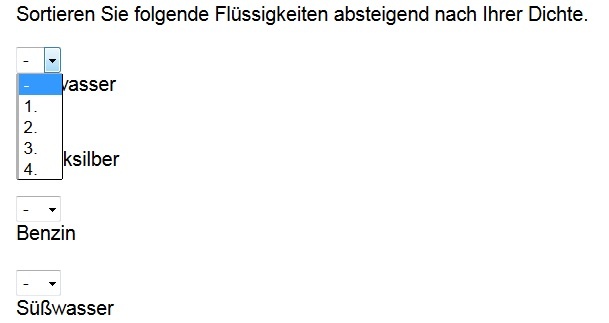 Quiz bowl: Students enter a text (minimum of 2 words).
Example: He scored the most goals in the soccer Bundesliga, all in all 365 goals. 
Short answer: Students enter their answer using few sentences in the text entry field.
Example: Explain in 3 sentences or less where the idiom "In space no one hears you scream" comes from.
True/false: Students enter if a statement is true or false.
Example: The 5 elements of Chinese mythology are: fire, water, air, metal and wood.
Results of tests and surveys

The results of tests and surveys can be viewed if one follows the path: Course management > Grade center > Full grade center.
In the grade center lecturers can view the results, grade these and write down their feedback. 
The results can be downloaded as an excel file.
Practical examples at the Freie Universität Berlin
Data protection and terms of use
Further information
Landing page: Blackboard - Learning Management System 
An overview of the services for lecturers and researchers can be found here.
In addition to the central LMS Blackboard, there is also a central examination system for computer-aided exams available at the Freie Universität Berlin: LPLUS. The software LPLUS is used for the computer-aided realization of legally binding tests and examinations that are carried out in specially set up exam rooms for just this purpose, the E-Examination Centers.
Support offered by CeDiS
Consulting services for the implementation of digital solutions in teaching: The Center for Digital Systems (CeDiS) has extensive experience of many years when it comes to the implementation of digital media and systems within the fields of teaching, learning and research. We offer a wide variety of consulting services on the implementation of these tools and systems within the entire academic scope and especially at Freie Universität Berlin. 
Training courses and workshops: For lecturers at Freie Universität Berlin (professors, employees, tutors) as well as lecturers of other universities CeDiS offers training courses and workshops on the topic of teaching and learning with digital media. These course enable participants to implement online elements within their own sphere of teaching.
The Executive Board of the Freie Universität supports e-learning initiatives: With the e-learning funding program financial resources are provided to lecturers that enrich and improve their courses quality-wise by implementing technological and media-related support. All of the academic staff teaching, the lecturers or even the institutions of the Freie Universität - without the Charité-Universitätsmedizin - can be supported within this program.